Description
In this configuration the nanodacTM combines precision PID temperature control, with a fully functional data logger. The full colour display can be changed to display text in English, French, German, Italian or Spanish. Data is continuously logged into either CSV (comma separated variable) or securely to UHH (Eurotherm Hydra History) files. Data can be archived onto a USB flash drive or via Ethernet to a networked server. Up to 4 channels can be recorded, with up to 14 virtual channels that can be set to record trends, alarms, communications or mathematical functions such as totals or averages. Logged files can be opened and displayed on a PC, in chart form, using Eurotherm Review Lite software.
  Recorder & PID programmable controller
In addition to the above this controller offers programmable control in which 25 segments may be set as a ramp, step or dwell and may also be configured to control relay or logic outputs. It stores and retrieves 100 programs. Additional programs can be saved to, and retrieved from, a networker server via a USB flash drive or Ethernet. The action of up to 3 relays, or logic outputs, can be linked to a program segment; this can be used to switch on external devices such as gas solenoid valves and audible alarms Note that some configurations may require additional components.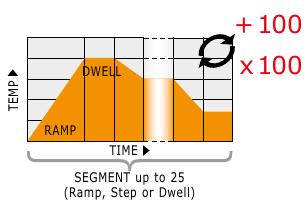 Options
Over-temperature control
This has a variable set point to protect either the furnace, oven or the load. If the main controller is from the 3216 or 3508 series this is provided by the addition of an independent 2132 controller. Whilst all Carbolite Gero products are designed to fail safe in the event of a controller malfunction, over-temperature protection is strongly recommended for unattended operation or where valuable loads are to be processed.