Dyson Airblade Wash+Dry
Airblade technology in a tap. Wash and dry hands at the sink.
Description
FEATURES:-
•   The Dyson Airblade Wash+Dry hand dryer takes 14 seconds to dry hands completely. So users spend less time in the washroom, and busy periods are easier to manage.
•   Uses a HEPA filter that captures 99.95% of bacteria and viruses from the air used to dry hands (0.3 microns). So hands are dried with cleaner air, not dirty air.
•   Digital motor v4 is one of the world's smallest fully integrated 1000W motors. It spins up to 81,000 times a minute & is the only hand dryer motor powerful enough to make AirbladeTM technology possible.
•   The Dyson digital motor V4 spins p to three times faster than a conventional motor. Generating the power that makes AirbladeTM technology possible.
•   Uses HEPA filter to capture 99.95% of particles the size of bacteria from the washroom air.
•   The HEPA filter removes airborne particles from the air. It has a grille to capture larger debris, a fleece layer to capture fluff and fibres & a pleated HEPA media to capture paricles as small as 0.3 microns.
•   Clearance distance – Minimum 100mm distance between floor and motor bucket.
•   Electrical suppy – Dedicated 15 A supply per unit. Input voltage/frequency 200-240V 50-60Hz. Rated power 1000W.
•   Operating environment – Dry indoor envirinment only. Maximum operating elevation 2000m.
•   Water supply – Water pressure between 1-8 bar. Pipe thread 1/2″ BSP.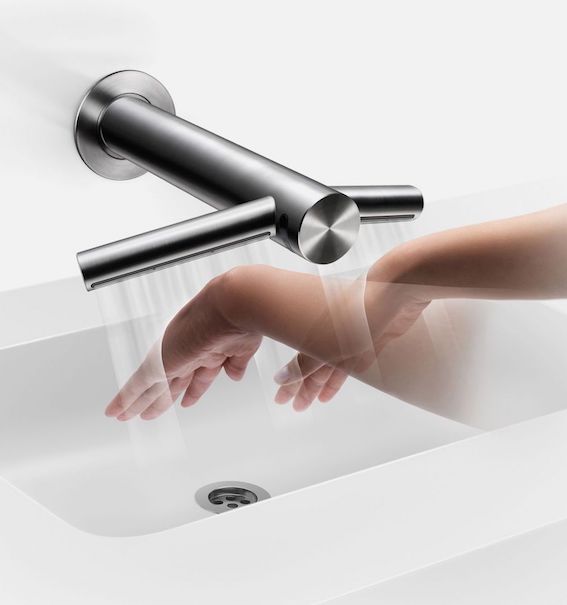 BENEFITS:-
  •   Better for the environment – No tree cut down, no paper waste
  •   Cost less to run – Costs up to 98% less to run than paper towels
•   Fast – Hands are dried in 10 -14 seconds
•   Hygienic – HEPA filters as standard
•   5 year warranty – Parts and labour