Venticap 502
Filtration box for safety storage cabinets
Description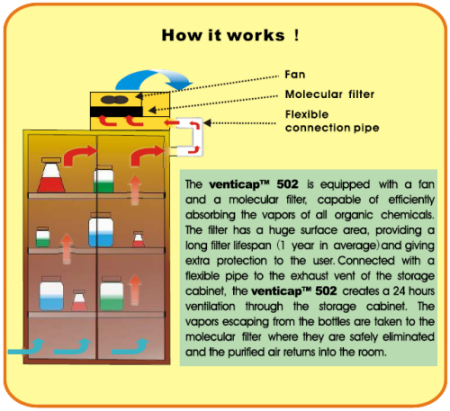 Types of filters available :-
  •   AS : Organic vapors
  •   BE : Organic vapors and Acid vapors
  Benefits :-
  •   Easy set-up : Locate & install the venticap 502 on the roof of the cabinet. Connect flexible piping between the exhaust vent of the cabinet & the venticap 502 inlet. install filters.
                          Plug in power socket and switch on fan. Unplug the vent at the bottom of the cabinet to provide an even air floe through the cabinet.
                          Your venticap 502 is now ready to remove your unwanted vapors.
  •   Cost-saving : Building heating and cooling air is recycled, not removed from the room, thus saving on energy bills and reducing greenhouse gases.
  •   24 hours air cleaning function : Permanent cleaning of the air of the room at rate of 75 m³/h.
  •   Protection of user Health : No inhalation of the toxic chemical when opening the cabinet.
  •   Safe : Filtration efficiency according to the NFX 15-211, class 2 ( not mora than 50% of the TLV* (Threshold Limit Value) of the chemicals shall be recirculated in the room)
  •   Universal : Fits to most of the flammable storage cabinets available in the market.
  Specifications :-
  •   Amperage : 0.8 A
  •   Dimension (Ext) mm : 570(L) x 390(D) x 270(H)
  •   Noise Level : 57dBA
  •   Volume of air treated : 75 m³/h
  •   Voltage / Frequency : According to the country of delivery
  •   Power consumption : 65 watt
  Technical Information :-
  •   3 Possible vents opening : Allows alternative connection points from the sides, or rear or the venticap 502, via the flexible connection pipe.
  •   Detection kit : Includes pump and tubing to test filter saturation with optional reactive tubes from the sampling port
  •   Flexible pipe : 1 meter flexible pipe diam, 70 mm, to connect the venticap 502 to the storage cabinet
  •   Sampling port : Provides sampling access to the filter outlet air stream. Allows the filter saturation to be tested (via the detection kit)