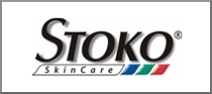 Stoko 3-Point Program - Healthy Skin Is Only Three Steps Away
Skin Protection
The first step in the STOKO® Skin Care 3-Point Program is before work skin care, used in conjunction with personal protective equipment or when wearing gloves is not feasible. Our before work products are formulated to be hazard-specific for use in a variety of industries and job functions.
"One of our most popular before work skin creams, TRAVABON®, is made with an exclusive suspension formula that helps to support the function of the skin when working with solvents, grease, fuels, metal dusts, inks and more," says Armand Coppotelli, Senior Technical Manager with STOKO® Skin Care. "TRAVABON® also makes clean-up a lot easier, due to the emulsifier formulated into the product."
Skin Cleansing
Lunchtime, during breaks and after work is clean-up time. Again, STOKO® Skin Care offers a wide range of hand cleaners that are effective in a variety of work environments. In any setting with any type of soil, our hand cleaners offer superior performance while remaining non-aggressive to the skin.
"It is vitally important to clean the skin regularly to remove any trace of dangerous workplace hazards, as well as everyday dirt and grime," Coppotelli says. "This point cannot be overemphasized. With today's harsher, more powerful industrial chemicals, oils and resins, the skin is more susceptible to damage than ever."
Skin Care
Once hands have been thoroughly cleaned, it's time for Step 3. STOKO® Skin Care's conditioners work to replace lost oils and moisture, providing a revitalizing, moisturizing and conditioning effect that helps keep skin healthy and smooth.